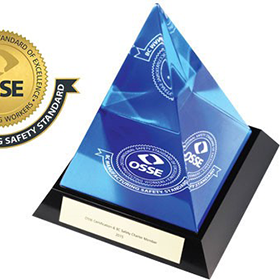 Since the good news should always be shared, the entire Garaventa Lift team is happy to share with you as our most valued partner the attainment of the OSSE Certification.
The OSSE program rewards and certifies BC employers who have demonstrated commitment to workplace health and safety, enhanced Corporate Responsibility and Community Stewardship by meeting and exceeding the OSSE program standards.
It recognizes employers for their commitment to go beyond the legal requirements by taking a 'best practices' approach to implementing health, safety in the workplace.
The program promotes equally the concept of managing health and safety together with other components necessary for a successful business such as profitability and productivity.
We are particularly proud and happy for this certification because it fully reflects the spirit of dedication and hard work that the whole Garaventa Lift team carries forward.
One of our drivers in business is in fact to always encounter and uphold the highest standards, to always remain an employer and business partner of choice.